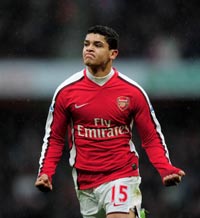 Arsenal midfielder Denilson is urging his team-mates to treat the weekend's Premier League encounter with Bolton Wanderers as thoguh they were facing a title-challenging team.

The Brazilian could make his first appearance of the season in the game at the Emirates, and believes that win is a distinct possibility for Arsene Wenger's side.

However, he has warned that complacency could see them come unstuck against a team like Bolton with so many high quality performers in its ranks.

"When you play Bolton you can't think that it is an easy game," he told the club's official site.

"You have to think it is a good game, a brilliant game and you have to win, the same as if you play Chelsea or Manchester United. You have to focus for every game.

"We have a good opportunity to win, you always do when you play at home."